Deputy Testing Opportunities:
October 23, 2023 and October 26, 2023
&
December 16, 2023 and December 18, 2023
Visit our Careers Page for testing information
Contact Information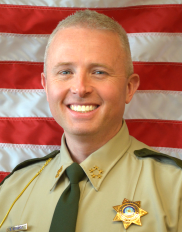 Brad Kunkel
Sheriff
Phone Numbers
Business Phone: (319) 356-6020
Extension 2 for deputy assistance or to report an activity
Extension 3 for Records Division
Extension 4 for Civil Division
Extension 5 for Jail Division
Extension 6 for Investigations
Extension 7 for Administration
Extension 8 for GPS Monitoring
Extension 9 for Reserve Mailbox
Hours
Monday - Friday, 8:00 am - 4:30 pm 
Divisions
Civil
Executes and serve writs and other legal process documents including Sheriff's Sales, subpoenas, and garnishments.
Investigative
Handles in-depth investigations that may require additional specialized training such as burglary, robbery, sexual assault, fraud, murder, and arson.
Jail
The Sheriff oversees a Jail that has the capacity to house 92 inmates. All arrests made in Johnson County come to the Johnson County Jail. This includes arrests made by other agencies in Johnson County.
Patrol
The police force for the unincorporated areas of the county. Provide contracted law enforcement and handle all calls for the cities of Lone Tree, Hills, Solon, Shueyville, Swisher, Tiffin and Oxford. Regularly patrols all areas of the county and provide security at special events. The patrol division also includes the K-9 Unit.
Records
Maintains all of the records for individuals that are booked into the jail, officer's investigative reports, accident reports, Sex Offender Registry and issues permits to acquire and carry handguns.
Reserves / Requesting Reserves
Volunteer Deputy Sheriffs assist the Sheriff in many different ways, including patrol, traffic control, security or any other area that is deemed necessary.