While falls occur at all ages, the consequences for older adults are especially costly, including loss of independence and mobility. When a senior falls, the impact can extend to family members, employers, health care systems, and the community. Reducing the risk of falls calls for a community effort--everyone can do something to help prevent falls.
 
Fall Facts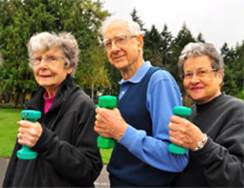 Falls in adults aged 65+ are the leading cause of head injuries and broken hips.
Unintentional fall-related injuries and deaths are on the rise in Iowa.
For older Iowans, falls are the leading cause of injury-related deaths.
Causes for falls vary, but often can be related to lower extremity weakness, poor vision,medications, chronic health problems, and unsafe home conditions.
Project Goals
Increase awareness of personal and direct costs of falls for seniors; draw attention to steps that can reduce falls. 
Increase home safety and personal risk assessment usage to help seniors and their caregivers identify risks and make modifications.
Motivate seniors to increase physical activity utilizing exercises appropriate for individual ability levels; provide fitness resource guides for activities throughout Johnson County.
Develop prevention training for care providers: web-based modules for health care professionals; materials for in-home service providers and volunteers. 
Strengthen transitional care coordination from health care settings to community-based services to prevent future falls.
Sure Steps
Sure Steps was one of the first initiatives that grew out of Johnson County Livable Community Falls Prevention Action Team's efforts to form a collaborative coalition, develop a project plan, and secure funding -- now there are a number programs and outreach efforts occurring regularly. 

It all began to take form in 2010, when a coalition of volunteer residents and service providers was awarded a two-year Wellmark Foundation grant to implement a self-sustaining falls prevention effort in Johnson County.  As a community-based falls prevention effort, Sure Steps aimed at informing Johnson County residents about the costs and risk factors associated with falls, encourage prevention steps, and utilize services available for seniors. Sure Steps' focus was on four key areas: Physical activity, Medication review, Vision checks, Home safety.
Today, through volunteer members and the Johnson County service provider community the JCLC Falls Prevention Action Team continues to develop and support programs, services and outreach efforts including, but not limited to Matter of Balance, Sure Steps, Tai Chi, Stepping On, and JCLC Falls Prevention Resource Fair.