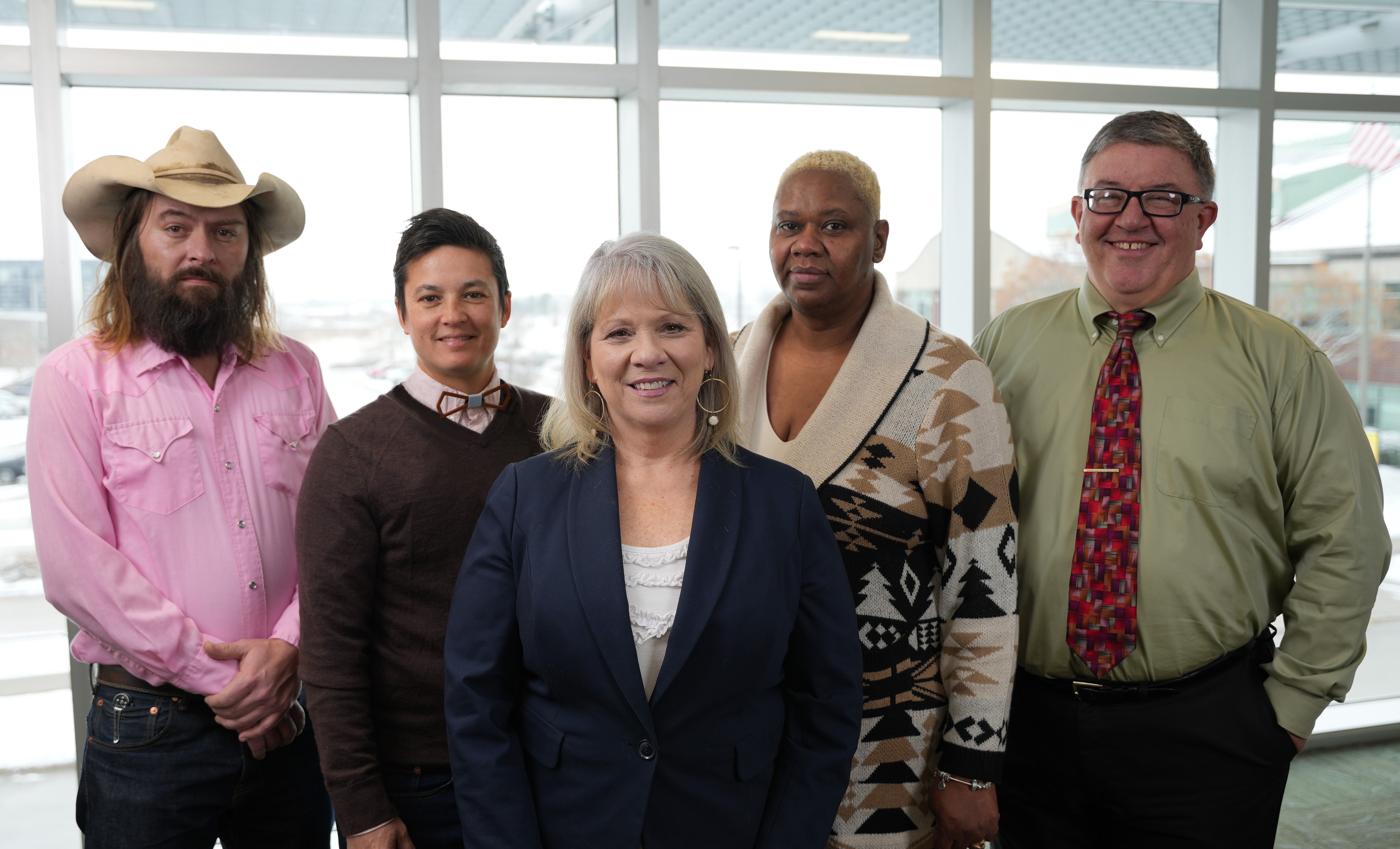 Meet the Board
V Fixmer-Oraiz

 


Iowa City, Iowa
 

Term expires: 12/31/2026

Email: [email protected]

V Fixmer-Oraiz was elected in 2022 and is the first transgender, Queer, Bi-racial county supervisor in Iowa. They have lived in Johnson County for over a decade and in that time graduated with a master's degree in urban and regional planning from the University of Iowa and started their own environmental and community planning firm, Astig Planning.

A dedicated advocate for housing as a human right, they were fortunate to serve as Chair of Iowa City's Housing and Community Development Commission and Vice President of the Johnson County Affordable Housing Commission. Their passion for social/racial equity and climate justice have resulted in receiving statewide planning awards for their work in watershed planning and were recognized by the Iowa Environmental Council with a 2022 Business Innovation Award for their focus on "transforming communities and landscapes through engagement, empowerment, and advocacy with a focus on climate change."

V remains committed to improving the lives of all Johnson County residents. They currently serve on the following Johnson County Boards:

Johnson County Task force on Aging, Johnson County Decategorization Board, Diversity & Inclusion Committee, East Central Iowa Workforce Development Board, Johnson County Board of Health (non-voting), Agriculture/Business Group of Johnson County, Iowa City Area Development/Iowa City Business Partnership Board (non-voting), Board Liaison for the City of Solon and the City of Swisher

They live in Iowa City with their wife of 18 years and two young children. V attends the Unitarian Universalist Society services in Coralville.

Jon Green

 

5919 Sand Road SE
Lone Tree, Iowa 52755
307-828-1004

 

Email: [email protected]

Term expires: 12/31/2026

Jon Green of Lone Tree was elected Johnson County Supervisor in 2021.

Green, 40, is from Cheyenne, Wyoming, although he's lived most of his life in Lone Tree and Nichols, Iowa, attending West Liberty schools through sixth grade before transferring to Lone Tree where he graduated in 2001. Green holds a BA in mass communication from Morningside University in Sioux City, Iowa.          

A former journalist, Green has also worked in radio and public relations, briefly serving as Wyoming Gov. Dave Freudenthal's press secretary in 2009-2010. Green served one term as mayor of Lone Tree in 2018-2019. He most recently worked as a systems administrator in information technology.

Green is divorced and lives with his girlfriend Eleanore. He has no children.

Lisa Green-Douglass

 

Chair

3117 230th Street NE 
North Liberty, IA 52317 
319-936-0175

Email: [email protected]

Term expires: 12/31/2024

Lisa Green-Douglass of North Liberty was elected to the Johnson County Board of Supervisors in a Special Election in January 2016, to complete a term vacated by resignation. She was re-elected to a full four-year term in November 2016 and again in November 2020. 

Lisa grew up in Carson, California and in 1980 moved to Johnson County. She lives in rural Johnson County in a century plus year old home surrounded by farmland.

She has a Ph.D. in Spanish from the University of Iowa and taught there for eleven years. While finishing her Ph.D., Lisa spent two years teaching at Clear Creek High School. Later she was a professor at Cornell College in Mount Vernon.

Prior to being elected to the Board, Lisa worked as a Spanish-language trainer, providing job-specific language training to law enforcement officers, jailers and correctional officers, conservation officers, nurses, teachers, and paramedics. She has worked with local law enforcement, including the Johnson County Sheriff's Office and jail, to translate some of their documents into Spanish. She has translated some print material for the County and for other agencies in the community.

Since her first election, Lisa has worked to improve the availability and quality of mental health care locally. She was an involved member on several committees leading to the creation of GuideLink Center, which is a facility for people in mental health crisis. Other firsts include being on the Economic Development Planning committee, the Johnson County ARPA Leadership Team, and the Eponym Committee, which she chaired.

Lisa's assignments for 2023 include serving on the GuideLink Center Advisory Board and as the Board of Supervisors liaison to the Johnson County Conservation Board.

 

Royceann Porter

 

 

136 Appanoose Court
Iowa City, IA 52240
319-321-2779

Email: [email protected]

Term expires: 12/31/2024 

Royceann Porter of Iowa City was elected to the Johnson County Board of Supervisors in 2018. 

Royceann is a recognized community leader who has been devoted to improving the lives of her neighbors. She has been an advocate in Johnson County for decades on a wide array of issues, including mental health services, affordable housing, Veterans' services, workers' rights, restorative justice and opportunities for youth. She also has experience working with city and county leaders to craft policy solutions. 

Royceann holds a degree in social work from Kirkwood Community College and served on the Iowa City Community Police Review Board. Prior to being elected to the Board of Supervisors, she worked as a project organizer for the Teamsters. 

 

Rod Sullivan

 

Vice Chair

514 N. Linn St.
Iowa City, IA 52240 
Home: 319-354-7199

Email: [email protected]

Term expires: 12/31/2024

Rod Sullivan of Iowa City was elected to the office of Johnson County Supervisor in 2004 at the age of 38. 

Rod grew up on a Heritage farm near Sutliff, and attended K-12 in the Lisbon school system. He attended the University of Iowa, earning a Bachelor of Arts degree in 1988. He has held several positions in the field of human services, including six years with the Department of Human Services and five years as Executive Director of the Arc of Johnson County. 

He is married to Dr. Melissa Fath, a research scientist at the UI and a volunteer pharmacist at the Free Medical Clinic. They have three adult children—Rachel, Jordan, and BJ; one granddaughter, Zuri; and have also served as foster parents for more than 50 children. 

Rod has been an active volunteer for the United Way, Community Foundation of Johnson County, Affordable Homes Coalition, Coalition for Racial Justice, UI Center for Disabilities and Development, City High Little Hawks Club, and the Batterer's Education Program. 

He is a member of several community organizations, including St. Andrew Presbyterian Church, Iowa Foster and Adoptive Parent Association, Sierra Club, Johnson County Ag Association, Center for Worker Justice, ACLU Hawkeye Chapter, AFT Local 716, and NAMI. He also served four years as Chair of the Johnson County Democratic Party. Rod was recognized as the Heritage Area Agency on Aging Elected Official of the year for 2009. 

Rod is proud of a number of accomplishments during his tenure as County Supervisor: Passage of several ordinances, including Human Rights, Sensitive Areas, Storm Water Management, and Minimum Wage; passage of the Conservation Bond; kick-starting the 1105 Project; restoration of Sutliff Bridge; starting the Livable Community for Successful Aging and Local Foods Policy Boards and the County's first Trails Committee. Rod also points to the Community ID program, rural warning sirens, Free Tax Help program, and investments in sustainability as major accomplishments.

 
The Board of Supervisors is composed of five members, elected at large, with each serving a four-year term. Any vacancy occurring in the Board in the interim between elections is filled by appointment by a committee of the County Auditor, the County Treasurer, and the County Recorder. The Board is the legislative body of the County and is empowered to:
Make appointments to non-elective County offices and to County boards and commissions.
Fill vacancies in elective County offices occurring in the interim between elections except vacancies occurring in its own membership.
Approve compensation for County employees other than elected officials and, subject to the limitations imposed by the Compensation Board, approve compensation for elected officials.
Allow claims against the County and order payment of those claims.
Enter into contracts in the name of the County for the purchase, sale, or lease of property, including real estate, and for the purchase of services.
Require reports of County officers on subjects connected with the duties of their officers.
Approve budget proposals of County offices and levy property taxes to raise revenues.
Manage all County buildings and grounds.
Supervise construction and maintenance of the secondary roads system.
Establish building zones for unincorporated areas of the County.
Make official canvass of votes cast in the County for elections.
Approve applications for beer, liquor, and cigarette sales permits for establishments outside incorporated areas.
Approve homestead tax credit applications and military service tax credit applications.
Other Information
Johnson County Organizational Chart 
Comprehensive List of Committees Supervisors Serve On