Accessible, secure, inclusive!
For all residents of Johnson County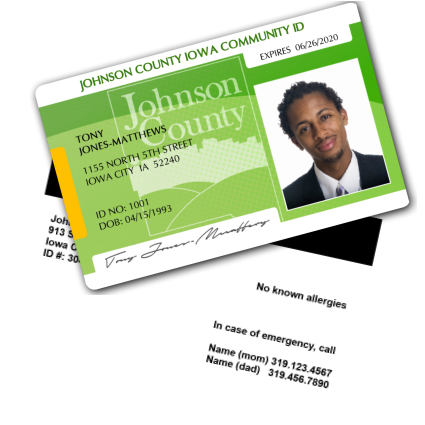 What is the Johnson County Community ID?

It is a local-government issued photo identification available to residents of Johnson County. The ID was established to ensure that all members of our diverse community are welcomed and can participate fully in the economic and social life of our county.

How can it be used?

The Johnson County Community ID can be used in a wide variety of day-to-day interactions, such as to:

Open a bank account at participating banks; confirm your identify when using credit cards; interact with schools, city & county agencies, and law enforcement officials; and enjoy discounts offered by participating community businesses, institutions, and partners.

The Johnson County Community ID cannot be used to...

Get a driver's license, board an airplane, purchase alcohol or tobacco, enter establishments with age restrictions, prove employment eligibility, or vote.

Where can I get my Community ID?

You can apply for a Community ID by visiting the Johnson County Auditor's Office, first floor of the Johnson County Administration Building (913 South Dubuque Street, Iowa City, IA 52240) between the hours of 8:00 am and 5:00 pm, Monday through Friday, except government holidays.

A card is good for four years and costs $8.

A children's card is $4.

Discounts at businesses

Businesses offer discount programs when you show your card and some items are free!

Click here to see a list of the businesses that offer discounts

Community Partners Initiative

Any businesses interested in becoming Community ID partners, please email completed Business Sign Up form to the Auditor's Office at [email protected]. Questions about the initiative? Call 319-356-6004.
The cards now have the ability to have contact and/or allergy information added, for when those details are important to communicate (i.e. for a person at risk of being lost, like a child, or who has a medical condition, such as an allergy).